Just at 500 meters from Alpi Hotel's door there is the true heart of Rome: Termini (railway) Station, a daily junction for 500 thousands citizens and tourists, about 150 Mil people every year. The station's construction started when Rome was still part of the Papal States, the final version was introduced in 1950 and it was huge (more than 225.000 square meters.
Termini is not just the heart of Rome's transportation system, it's alto a cultural symbol. Cinecittà (the most important film studio in Italy) frequently used as location that place, real and magic at the same time, made by steel and emotions, full of encounters and goodbyes. The connection between cinema and railway has been always strong: one of the first short movies by Lumiere brothers (Arrival of a Train at La Ciotat, 1896) was about a train entering the local station. From that, how many times we watched a movie scene in a train or in a station?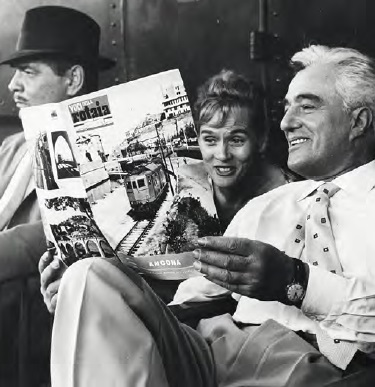 Just 3 years after the station's inauguration the multiple Academy Award winner Vittorio de Sica directed an international production titled Termini Station (or Indiscretion of an American Wife in USA). Some of the most important Italian blockbusters during the 50s had a deep connection with railways: like the comedy "Destinazione Piovarolo" (Destination Piovarolo, 1955) with Totò (probably the most successful actor of that time) or the tragic story of "Il Ferroviere" (The railway worker, 1956). The latter was directed (and performed) by one of the most important director of Italian cinema: Pietro Germi who had a deep connection with trains. In his most successful movie, Divorzio all'italiana (Italian divorce, 1961) many important scenes, with Marcello Mastroianni, are settled in a train. And one of the most famous scene of the whole Italian cinema was written by him: in Amici Miei (My friends, 1975) a group of men slaps the passengers on a leaving train (the scene was shot in Florence station).
Train and cinema are fundamental for the 20th century. Between them there was from the start a deep connection because both are linked to travel, the physical one and mental one: station is a door for a destination like the movie theatre is a door for a new world. And all this history and culture are just at 5 minutes walking from our door.