A tradition passed on for generations along the streets of the Eternal City
Crushed ice, syrup and fruit pieces: the "grattachecca" in Rome. A traditional but still an everyday choice to beat the burning heat. A cornerstone of Rome.
In the hot Roman days, whilst admiring the majesty of the Colosseum and The Imperial Fora, enjoying the beauty of the Trastevere neighbourhood and discovering the monuments of the eternal city, you should definitely stop at one of the numerous kiosks that sell grattacheccas, a go-to for Roman citizens and visitors.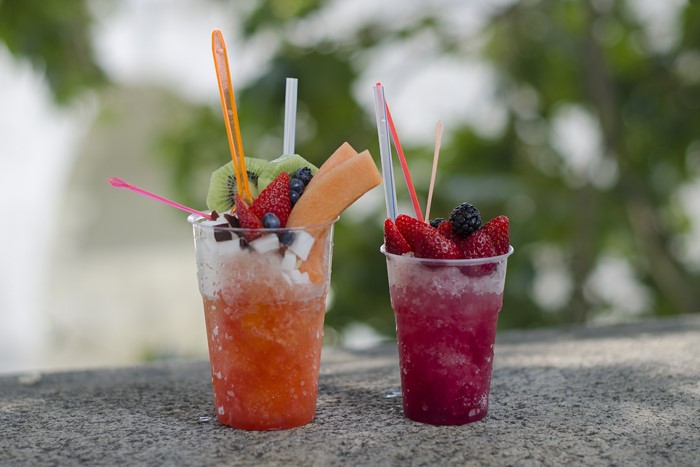 Where does its curious name come from?
Checca is the ice block that in the past was used to preserve food and keep it fresh, "grattare " in Italian means "to scratch". Therefore "grattachecca" is the action of scraping the ice block. It's really different from the granita, where fruit and ice are blended together. Don't get confused or you'll get into trouble!
The grattachecca is one of the symbols of Rome, so much so that there are some very old kiosks where Romans and non-Romans gather to taste the real grattachecca, such as the traditional tamarindo, with black cherries and pieces of lemon.
The oldest and most famous kiosks of Rome?
Alla fonte d'oro, has been in the historical neighbourhood of Trastevere since 1913. For five generations it has been offering its customers the taste of the real grattachecca on the Lungotevere Raffaele Sanzio.
They say it's the best  grattachecca in Rome.
La Sora Maria, located in Via Trionfale dal 1933, it is an institution for all Romans and there you will bump into nice old ladies and gentleman that will talk about the summer afternoons and evenings of their childhood and adolescence spent at the kiosk.
"The best grattachecca maker of all" is what's written on the wall next to the kiosk.
The secret for a perfect grattachecca? Love for tradition, fresh ingredients of good quality and, above all, the eternal magic of Rome!
We are waiting for you, ask Hotel ask Hotel Alpi for all the information on how to find the best grattachecca kiosks in Rome!
BOOK NOW
LANG
Italiano
English
Deutsch
Português
Español
Arrivo

7

APRILE

Partenza

7

APRILE

Camere

1
BOOK NOW
Powered by HermesHotels